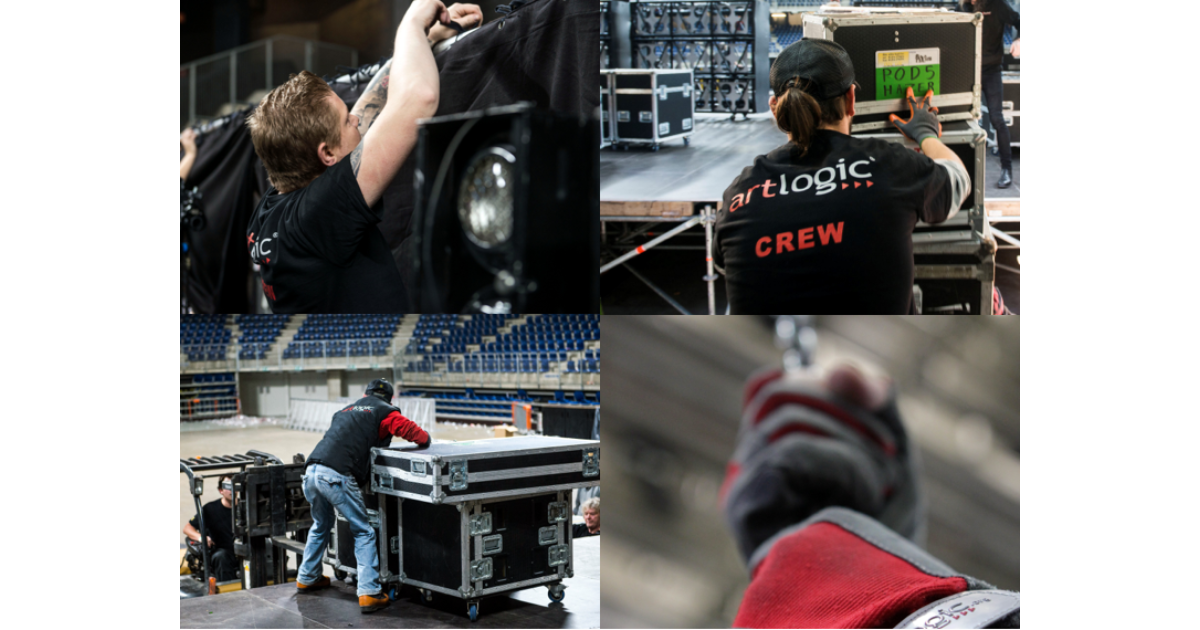 What does a stagehand do ?
Support staff – including stagehands – are one of the three main functions in an event crew. The other two functions include technical assistants and specialists:
Support staff

Technical assistants

Specialists
 In this article we will focus on stagehands: the support staff of a production.
What does a stagehand do?
A stagehand takes on all the tasks involved in setting up and dismantling events. Typical tasks include loading and unloading trucks, setting up and dismantling technical equipment, stage elements, exhibition stands, furniture and seating or safety barriers. Stagehands always work under the guidance and supervision of crew leaders or trained technicians and are not responsible for the work carried out. Each stagehand has personal protective equipment, which includes a helmet, work shoes and gloves. 
What are the job requirements for a stagehand?
To work as a stagehand, no special qualifications are required. However, physical fitness is a must: for example to set up a stage or load cases into a truck. In-house training on work safety and industry requirements is also required. For example, once you learn how to handle cables in television productions or acquire basic knowledge of scaffolding you will be able to work as a steelhand.
What is the difference between a stagehand and a roadie?  
A roadie and a stagehand can perform the same tasks. However, a roadie often goes on tour whereas a stagehand is a locally employed helper who works on different events in the same area. 
What is the difference between a stagehand and an event technician? 
In contrast to stagehands, an event technician requires training that usually lasts 3 years. The training provides in-depth knowledge of planning and implementing video, sound and lighting for events and productions.
 Stagehands often work alongside technicians. If they have more experience in the areas of AV, sound and/or lighting or have acquired this over time, they can also work as technical assistants. 
What does a steelhand do?
Like stagehands, steelhands are part of the support staff in a crew. A steelhand is responsible for the scaffolding work. He or she assists in the assembly and dismantling of stages, FOH towers, trusses and other scaffolding constructions under the supervision of a technician or scaffolding erector. Steelhands have a basic knowledge of materials, are familiar with scaffolding procedures and know, for example, how to stack scaffolding material correctly.
Other special support crew include Eventhands, Messehands, Backlinehands, Cablehands, Decohands, Cateringhelp and Wardrobe.
https://artlogic.biz/wp-content/uploads/Stagehand.png
630
1200
Albane de Malherbe
https://artlogic.biz/wp-content/uploads/logo2-1.png
Albane de Malherbe
2022-11-15 11:57:05
2022-11-15 12:02:02
What does a stagehand do ?