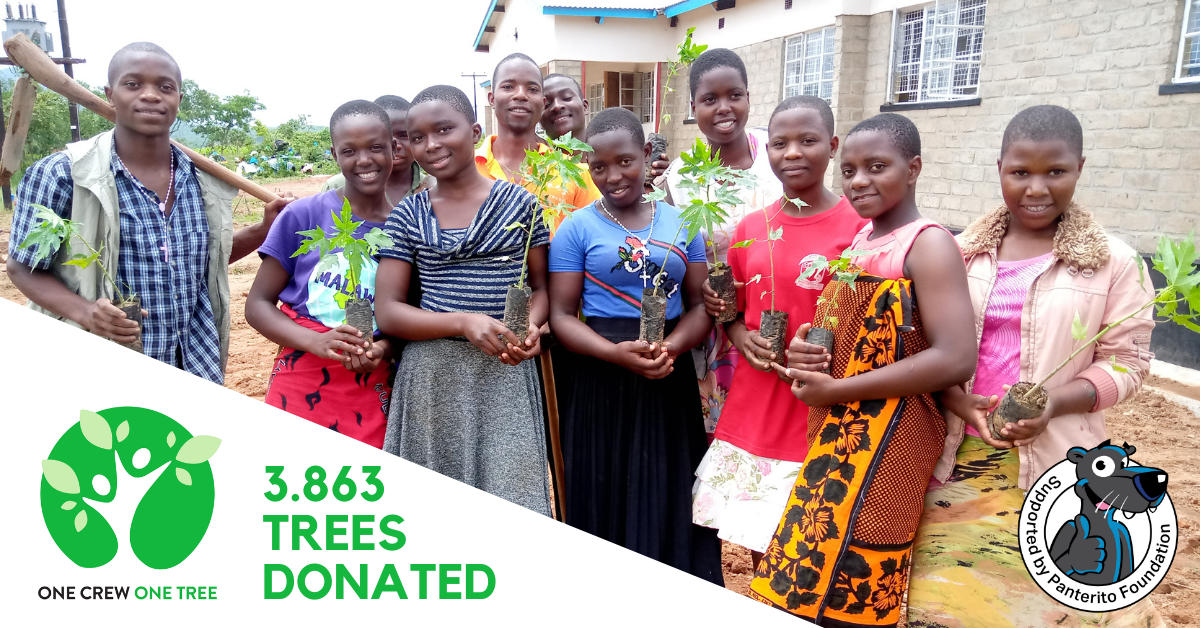 5.5 soccer pitches – One year of One Crew | One Tree
Under the slogan climate act instead of climate strike the European enterprise group of artlogic started the program One Crew | One Tree together. It is now almost exactly one year ago and we proudly look back on inbetween more than 4,000 trees that have come together via the paperless crew bookings in the artlogic.app. If you were to plant a new forest, that would be equivalent to 40,000 square meters or 5.5 soccer fields. And there are more every day!
Although three-quarters of this first One Crew | One Tree – year fell into the Corona state of emergency, we have made a lot of progress.
For the implementation of the program, we have chosen two projects with very different approaches in cooperation with the Panterito Foundation, which accompanies the program:
Eight schools in Malawi, Zambia and South Africa have planted trees around their buildings. The seedlings are practical learning tools in the field of environmental education and measures against climate change. They improve the local microclimate and provide fruit, since fruit trees have been planted to a large extent.
> More about our school tree project
In our project in Indonesia, we support small farmers in making their degraded fields fertile again by planting trees. This has several advantages: The trees bring nutrients into the soil so that catch crops can be grown again. As a result, no further land has to be cleared for agricultural cultivation, but fields are used continuously. The trees belong to the fast-growing species, which are removed and sold as timber after 7-10 years. They go into the timber market for use in interior design and as furniture wood, so that the stored Carbon remains bound.
> More about our agroforestry project
https://artlogic.biz/wp-content/uploads/One-year-One-Crew-One-Tree_Blog_en.png
628
1200
SuperAdministrator
https://artlogic.biz/wp-content/uploads/logo2-1.png
SuperAdministrator
2020-10-29 15:07:34
2021-03-02 12:04:54
5.5 soccer pitches – One year of One Crew | One Tree